---
Welcome! and thank you for visiting my website, I hope I can help you.
I graduated in 3 Dimensional Design in 1984. I combine my portraiture and artwork, together with my freelance design, from my studio in Tetbury, Gloucestershire.
I enjoy working in pencil and charcoal medium.
My aim is to capture the character and essence of your animal by using strength of light, combined with depths of tone and shade. I use pencil for my portraiture work.
I enjoy working from my sketches, but it is the photograph, which allows me to see the detail needed for my pencil portraits. Examples of some of my commissions are here for you to view.
All portraits are priced individually depending on the subject and photographs available. But, as a guide to help you my portraits start at the following prices; a cat £250, a dog is £295, larger breeds are £325 and horses £495. If you would like more detail to be added to the drawing for instance, to show more of the body or a intricate bridle on a horse, small charges may be added to accommodate this, depending on what you wish for. Please just ask and I will be only too happy to help.
Sensible discounts will apply if you would like more than one portrait.
Once you have chosen your photograph I will be able to give you an idea of the size of your portrait. Most portraits are of the head and neck and I use white textured 350gm hand pressed paper. Please have a look at some of my completed commissions, as it will show you sizes of finished drawings and also give you an idea of the paper sizes I use.
If you are thinking of a commission for a special occasion, do plan ahead a little, as I get busier at certain times of the year. Gift cards for commissions are also available for those who wish to give a portrait as a special surprise.
I do have original Art for sale, as well as fine art prints in a variety of sizes. Please click on Lesley's Art for details and prices.
If you wish to speak to me about a commission or my artwork, please call or email me, with any questions you may have and I will be only happy to help.
Tetbury, Gloucestershire
Tel: 01666 311278 Mob: 07717 082757
email: lesleywihl@lesleywihlartist.com


Find me on facebook and instagram
Click on the links for more updates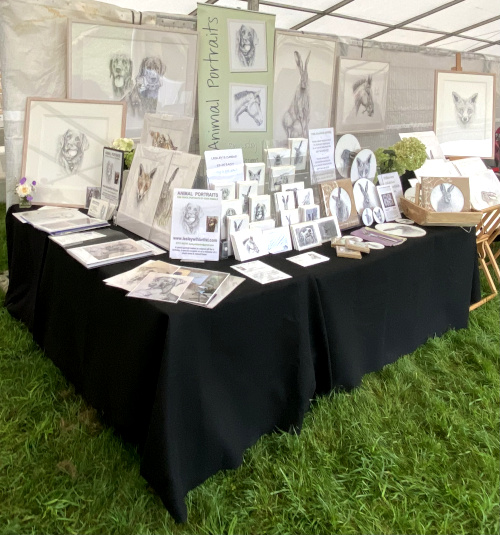 Exhibition stand- Frampton Country Fair